The Best Place To Sell Your Business Or Buy Your Next One!
Search
Showing 1 - 2 of 2 items
At least 144sqM of rink surface (14mm) and barrier.
6 Number Benches
Roxa Synthetic skates and storage boxes (minimum 60+), all in very good condition.
Skate Hire Hut.
I will deliver it and install it at your destination ( UK Mainland only )
Total package new is well in excess of £30,000. I am doing something else now so if you want it you can have my web address at no extra cost.
I have loads of other bits of odd barrier, kickers, panels, lockers and more skate surface all free of charge with the purchase.
I have a skate grinder and if I get the asking price I will include it, this alone would set you back £4K.
This is a great deal for this years festive period so give me a call while its still around, it could work out cheaper than hiring one!!!!
Click here for more info and contact details......
Synthetic Ice Rink and all associated equipment to get you started. I hired this rink last year for 5 weeks at a cost of £9000. If you hire it weekly you will get your money back and some this December.
£12000 ono VAT Free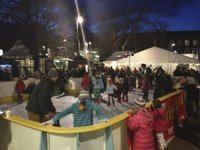 • Matting and headers made by Custom Ice which will make a rink 20m by 10m
• Solid painted barriers in 'sexy pink' which can be bolted to the floor or frozen into the ice. Barriers include fire door and cleaner door
• All the timber to build the platform for the rink with sufficient blocks to level a 50cm gradient
• 50mm of insulation to go under the ice rink
• 1000lt of 50% Glycol mix
• Water hoses for flooding
• Kerston Ice Sweeper with a 5.5hp Honda engine
• 225 pairs of Roxa Ice Skates sizes 10 junior to 13 adult
• Two Penguin Skating Aids
Much, much more..........
The package includes all the equipment to build and run a rink with a capacity of 75 skaters:
£31500 +VAT ono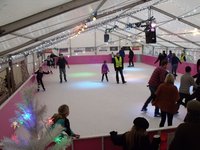 Showing 1 - 2 of 2 items