The Best Place To Sell Your Business Or Buy Your Next One!
Search
Showing 1 - 1 of 1 items

A genuine sale of one complete set of ex-hilton or ex copthorne 4* and 5* hotel bedroom furniture (one bedroom set), so if you are starting a b&b or upgrading your old one, we believe this furniture will allow you to charge an extra 30-40% premium on your rooms and the furniture will pay for itself in a matter of weeks!!! And you won't have to spend time on sourcing all the correct items (typically 6 to 12 months to open). Existing b&b's will have the edge over their competitors!!!
What's on offer? - we can simply sell you the furniture or sell you the bedroom furniture and all the additional reception, kitchen and dining room items and business know-how to quickly get you off the ground (this includes the website, booking system which would take you 6 -12 months to organise (with no income?), support with setting up the all important booking channels, food standards certification, insurance, pat testing, fire regulations, linen supplies and much, much more!!!!!.
The whole package is available for a fixed fee of £12,500 - you will also receive telephone support during your first 6 months of trading*.
This is a one-stop shop for getting your b&b up and running in double quick time and don't forget time is money!! No need to go to dozens of different suppliers. For a small outlay you will be a cut above the competition and start reaping the rewards early on!
Wow!! This is everything you need to upgrade your b&b or start a successful b&b business at the 'turn of a key !!!
£12500 VAT Free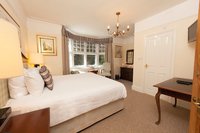 Showing 1 - 1 of 1 items